Welcome to

Wika Curtain
It's a place for all your soft finishing needs. At Wika Curtain, we sincerely understand your nature of art, your reflection of beauty, and your taste of creative interior designs.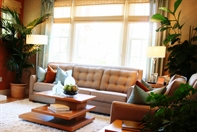 Therefore Wika Curtain, with its 15 years of experience, certainly can provide you varieties of soft finishings at your satisfaction. We guarantee that the soft finishings you ordered are tailored made based on your aestethic needs.
At Wika Curtain, we provide you, your choices of soft finishings such as not only stylishly designed curtains and blinds but also uniquely jazz up wallpapers, exquisite carpets, luxuriously looking yet very affordable window films and other eternal window art piece beauties.
At wika curtain, there are many sizes, styles and materials of blinds and curtains. Some of which are wooden blinds, roller blinds, timber, vertical blinds, venetian blinds, roman blinds and blackout blinds. Curtains on the otherhand come with a wide array of patterns, different heading styles and affordable and decorative materials.
So... Contact Us now and have your soft finishing needs tailored made by our professional Designers who are always ready to cater your aestethic needs and elegance!